Elite Whitetigers Taekwondo
Martial Arts in Sienna Plantation and McAllen
Elite Whitetigers Taekwondo
Martial Arts in Sienna Plantation and McAllen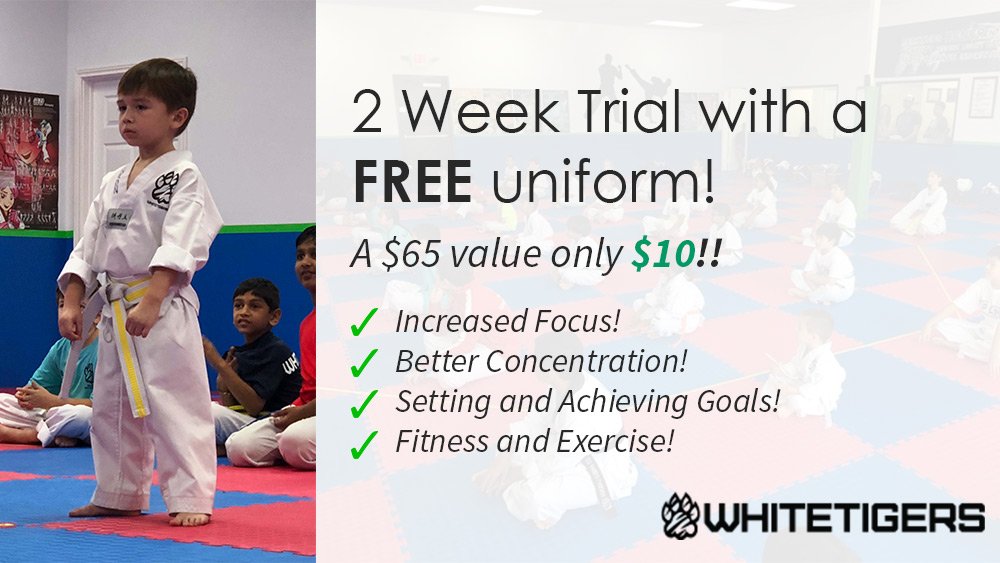 What Parents Have to Say…
"We love it here! I've never seen my son so dedicated and focused. Chris and the other instructors are very patient, motivating, and come with years of training and expertise!"
Our Life Changing Programs
Little Tigers
This wonderful program helps young children learn, understand, and develop simple mental and physical strengths. We teach them martial arts while making sure they follow the five tenants of Taekwondo: Courtesy, Integrity, Perseverance, Self-Control, and Indomitable Spirit.
Kids Traditional Taekwondo
This incredible life-changing program teaches children life skills such as respecting one another, learning how to use their words and not their hands, thinking to help resolve emotional reactions, dealing with bullies properly, and developing an overall obedient and well-rounded child. 
Adult Taekwondo
Our adult Taekwondo program will have you sweating and feeling like you completed yet again another great workout. Learn how to challenge your mind, gain flexibility, prevent injuries, develop physical and inner strength, and if you have a child in one of our awesome programs, build together.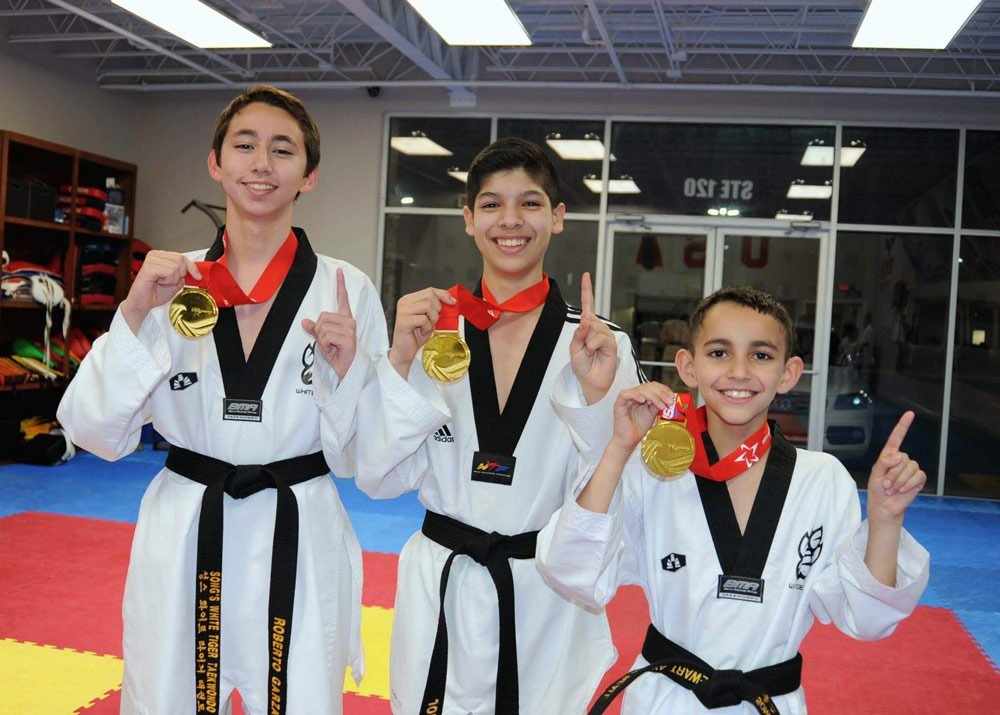 Sport Taekwondo
Our sport Taekwondo program focuses on the athletic development of the Olympic sport of competitive Taekwondo sparring. You and/or your child can develop a competitive mindset by taking part in this next-level program. Learn how to be agile, quick on your feet,  and throw some serious kicks.
What Parents Have to Say…
"I can't tell you how impressed we are with this school. The lessons of discipline and respect have done with tons of encouragement is outstanding. Our son had a less than stellar first belt test experience and the Masters handled it so perfectly and turned it into such an amazing learning experience. I can't recommend enough!"
About Us
At Elite Whitetigers Taekwondo, our mission is to provide the finest instruction in the mental, physical and character-building aspects of martial arts. Second, to provide personal instruction in every class. Third, to provide the cleanest and most professional facilities in the area. Fourth, to create an environment that allows each individual to pursue and achieve a greater level of personal success and freedom.
Your best interest is always uppermost in our minds. Our instructors are always ready to help you in any way during your training. We will be happy to discuss your progress at any time. We are your ideal martial arts studio serving locations in Sienna Plantation and McAllen, Texas.
Martial Arts in Missouri City | Karate in Missouri City | Kids Martial Arts in Missouri City | Taekwondo in Sienna Plantation | Self Defense Classes in Missouri City | Adult Martial Arts in Sienna Plantation | Adult Fitness Classes in Missouri City | Self Defense Class in Sienna Plantation | Karate in McAllen | Kid's Martial Arts in McAllen | Martial Arts Classes in McAllen | Adult Self Defense in McAllen | Taekwondo in Missouri City | Martial Arts in Sienna Plantation